💕 February Special 💕
⋆
💕 February Special 💕 ⋆
Do you believe it's easier to find a cotton candy 🍭 Unicorn than spotting a planner that fits your needs?


Then, take a deep breath…
What if:
⛔️ you stop dreading the hunt for a new planner
⛔️ you stop wasting time & money by using one planner only
⛔️ you stop juggling with multiple planners at once (bye bye headaches)
⛔️ you stop second guessing your needs
⛔️ you stop believing there's something wrong with you
Introducing
Pick Perfect Planner
– Home Study Mini Course
3 simple steps to dig out your perfect analog planner quickly when you're old enough to drink margaritas, dream to avoid social gatherings like plague, or door slam Laura the MLM-green juice-addict without a blink
SOUNDS LIKE THE 3AM YOU, TOSSING IN BED?
"I can't stick to planning. I tried dozens of time. When something gets in my way, I quit."
____________________________
"I freak out to mess up with my planner. It looks so perfect in its embossed box."
____________________________
"I have nothing to plan. My life is too crazy. There must be something wrong with me."
____________________________
"Every time I use a planner, it reminds me I'm a failure because I give up on my dreams 100%. "
What if you can map out your day/week knowing…
– you'll meet Betty this Friday for the French wine degustation you enrolled ages ago.
– all your work is done on time without the pesky sticky notes reminders from Ted, your anxious supervisor.
– you'll take a walk in the forest with your 6-year old daughter, collecting colourful leaves before heading back home to drink hot cocoa.
– errands/ grocery/ bills are handled with more precision than a Swiss event planner running high on local chocolate.
When you rely on that magic tool 🧙🏻‍♀️ (aka your planner) waiting in your purse, you can:
–say "NO" to Bernie for a last-minute meeting with the more demanding lead ever
-be unavailable on Saturdays so you can do nothing but sleeping
THE ENTIRE PICK PERFECT PLANNER METHOD FOR
Pick Perfect Planner will help you to…
🎉 Save $$$ money (bye bye multiple planners you never us & collect dust)
🎉 Save hours on useless shopping trips, having hard time parking your car to not find Mrs Unicorn diary
🎉 Experience less frustration, less indecisiveness, less confusion
🎉 Overcome perfectionism (your did the prep work, nothing can go wrong)
🎉 Be more confident (there's NOTHING wrong with you. Not all planners are created equal)
🎉 Find which physical planner is made for you & your lifestyle
What you can expect
✨ Find which layout makes sense for you, not for your BFF nor your great granny
✨ Assess your actual needs vs unnecessary fluff you'll never use
✨ See that not all planners are created equal
✨ Know exactly what to look for online or in a shop
✨ Organize your findings in convenient cheatsheet, and handy tools
✨ Banish shining object syndrome because new doesn't me worthy of your money/ time/ energy
✨ Feel more confident in your planning skills & decisions
What's inside the mini course?
01
Short & Simple videos (under 5 min each) to easily grasp ideas in one shot
02
The 9 basic assets you must check before deciding
03
The priority matrix to assess your needs vs what is less useful to you
04
Real life examples to streamline your decisions
05
The comparison tool to save time, money, & energy when window shopping
06
The companion workbook to follow through, take notes, & get extra tips + access to an online comparison chart (value $97)
What's NOT inside Pick Perfect Planner?
– How to set goals or resolutions
– How to start/ use/ customize a bullet journal to match your needs
– How to be more creative, artsy, decorate a planner
– Digital planner/ digital options/ digital alternatives
– accessories/ pens/ highlighters to use on a planner
– special needs planners (such as wedding, birth, bodybuilding, project manager, leagal, health, financial, savings, running, …)
– 1-on-1 coaching/ feedback
– LIVE calls/ 24/7 Q&A/ FB group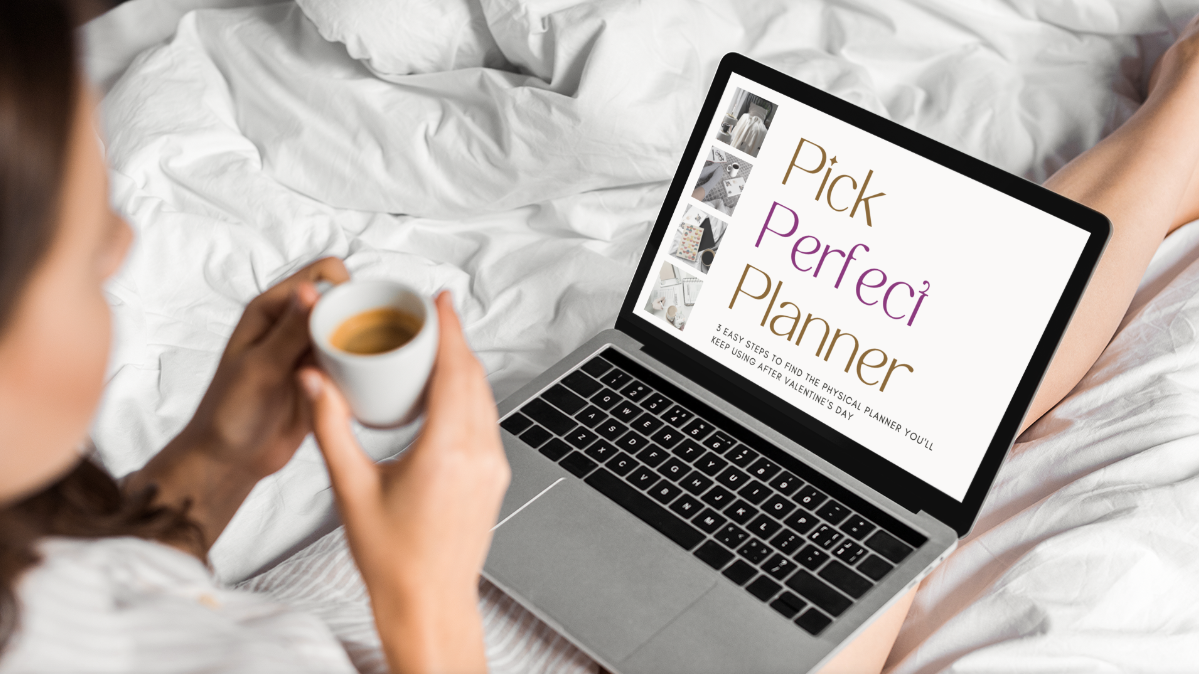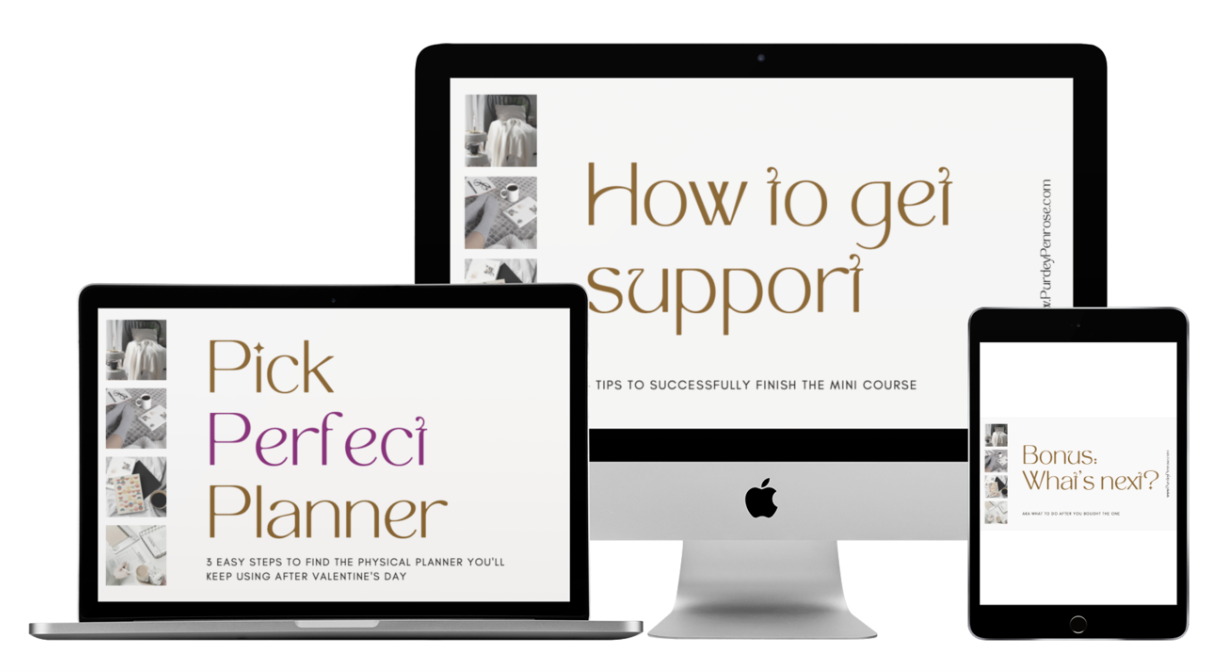 14-Day money back Guarantee
You can get your money-back, no question asked up to 14 days after your purchase.
Drop a line at hello@PurdeyPenrose.com with your order details & allow me up 3 business days to proceed.
I'm not responsible for banking delays once the refund is processing
Pick Perfect Planner
My Complete System to choosing the physical planner that fits your needs & lifestyle without giving up on planner by VDay or maxing out your credit cards
✨ The exact 9 Basics to check before buying (value $197)
✨The matrix to evaluate your needs by priority (value $197)
✨The comparison tool to save time & money while shopping online or IRL (value $197)
✨BONUS: certificate of completion (value $27)
✨BONUS: 5 tips to get started with your new planner (value $27)
✨BONUS: one tree Planted on your Behalf
Total value $767
Regular price $97